Through the Bible with Les Feldick
Newsletter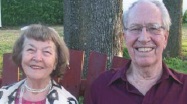 Dear Friends,
A thousand thanks for all the cards & letters. With such prayer support how could we not get completely well? It was a long 5 months, but we are glad to be answering mail. Thank the Lord for Iris, she is exactly the helpmate I needed. The Lord is also blessing her. Her health is holding up and her diabetes is under better control than it has been for a long while. So all we can say is Praise the Lord!
---
An update on Les ~ Submitted by Iris
Praise the Lord! Les has no long-term effects from the mild stroke he suffered in April. At 90 years old, healing takes time. The surgeon told us it would take five months to recover, which was marked on Sept 18th. He is getting stronger and no longer using a walker, even on his daily trips to the swing, to watch the cows.
We just canít thank our Lord enough, but He knows our hearts. Now all we have are praises and appreciation for all the prayers from you saints out there. I could go on and on, but thank you doesnít seem like enough to express how grateful we are. We are truly blessed! Love, Iris
---
What in the World (taken from a previous NL)
I donít claim to be an expert on prophecy, but anyone can see that the present world events are rushing us to the time of the end. Prophecy, per se, is not being fulfilled. That wonít really "kick in" until the opening of the Tribulation.
I am always reminded of the pyramid on our one dollar bill. As world events take us closer and closer to the top, one day the final block (which is a little above the main structure) will fall in place and the "seeing eye," the Anti-christ, will rule the world. All world events are setting the stage for that man's rule.
I never try to speculate who is the best candidate. For the past 60 years, men have tried to show all the proofs that it was Hitler, Mussolini, Stalin or anyone else who, seemingly, has the demonic qualifications. But, Paul writes in II Thessalonians 2:3, that the man of sin will not be revealed until after the departure (of the Church), and in verse 8, the "and then" refers back to verse 7, where again it is implied that the church will be removed first. But, the stage has to be made ready. And, we are seeing that every day.
Our Lord spoke of the days of Noah as a sign, as well as Sodom. In both scenarios, it is a picture of our present day economic binge. Read Ezekiel 16:49, Matthew 24:37 & 38, Luke 17:26, 27, 28. In both instances, their prosperity was accompanied by gross wickedness and unbelief. We never try to set dates but, by recognizing the signs, we can reasonably expect our trumpet call in the near future. For those of you who have requested prayer for lost loved ones, rest assured we pray fervently for their salvation, lest they be left behind.
---
Special Offer
We will be offering the books for the Connecting the Dots series (Books #74 - 77) at a discounted rate of $18 total. This is a savings of $6 from the regular price. If you would like to take advantage of this opportunity, please ask for the Connecting the Dots special. This offer is good for purchases made from Oct thru Dec 31st, 2017. Offer valid for books #74 - 77 only. Thank you!
---
Note from Laura
I received a gift in the mail the other day that was the cutest thing. It was a little black top hat with a little white rabbit sticking its head out. A short note accompanied the rabbit and it said: "God is about to pull a rabbit out of his hat and the world does not see it coming, but we do. Happy rapture! I loved it. Now every time I glance at that rabbit, which is right in front of me, I will be reminded that God is about to do something miraculous.
I Corinthians 15: 51 & 52 Behold, I show you a mystery; we shall not all sleep, but we shall all be changed, in a moment, in the twinkling of an eye, at the last trump: for the trumpet shall sound, and the dead shall be raised incorruptible, and we shall be changed.
---
Our God's Not Dead
We donít serve a dead God. Below are 30 different scriptures that reference the Living God, 15 taken from the Old Testament & 15 from the New Testament.
1. Deuteronomy 5:26
2. Joshua 3:10
3. 1 Samuel 17:26
4. 1 Samuel 17:36
5. 2 Kings 19:4
6. 2 Kings 19:16
7. Psalms 42:2
8. Psalms 84:2
9. Isaiah 37:4
10. Isaiah 37:17
11. Jeremiah 10:10
12. Jeremiah 23:36
13. Daniel 6:20
14. Daniel 6:26
15. Hosea 1:10
1. Matthew 16:16
2. Matthew 26:63
3. John 6:69
4. Acts 14:15
5. Romans 9:26
6. 2 Corinthians 3:3
7. 2 Corinthians 6:16
8. 1 Timothy 3:15
9. 1 Timothy 4:10
10. 1 Timothy 6:17
11. Hebrews 3:12
12. Hebrews 9:14
13. Hebrews 10:31
14. Hebrews 12:22
15. Revelation 7:2
---
Regarding Christmas
Every year we receive multiple calls asking about Lesí beliefs regarding Christmas. Specifically, whether or not Les and Iris celebrate Christmas or if they believe it is wrong to do so. Although the actual date of Christís birth is not given in scripture, Les is aware that December 25th is not the birthday of our Lord and Savior. On the other hand, Les does not believe that that date, or any other, should be given over to pagans or false gods. December 25th belongs to God as do all the other 364 days in the year, and if that is a day people choose to celebrate Christís birth, we should not judge one another in that (Colossians 2:16). However, the focus of Christmas should remain on Jesus and the miracle of the ďWord made fleshĒ and not the commercialism that so often takes His place. Like most families, the Feldicks are spread out and busy. Les and Iris have three children nine grand-children, and are expecting their sixth great-grandchild, so whenever they can get together is a blessed time for them.
---
Irisís Favorite Open face sandwich
Grind or mash together 1 medium can of Spam, ľ lb of Velveeta Cheese, 1 small onion, 10 oz can of cream of mushroom soup with salt & pepper. Spread on hamburger bun halves & broil until golden brown. Be sure not to overcook! Enjoy!
---
Questions & Answers (from a previous NL)
QUESTION: Why did Mary Magdalene not recognize Jesus in John 19?
ANSWER: Consider, first, the physical suffering and abuse at the hands of the Romans. He was scourged, his beard torn from His face, the crown of thorns forced upon His Head, plus other acts of violence against Him. But, most of all, because on Him were laid the total sins of the human race from Adam until the end of time.
This is beyond our understanding. For all these reasons, Isaiah 52 prophesied that His visage or appearance was more marred than anyone had ever been. That was the last mental picture of Jesus that Mary had. Also, she, nor any of the other followers of Jesus, including the 12, had any idea that He would be raised from the dead. Luke 18:31 & 32, John 19:9.
No wonder Mary, on first impression, did not think of seeing Jesus in a glorious, resurrected body with only the nail prints and the spear wound as evidence of His suffering. She recognized Him primarily by His voice.
QUESTION: Then, why did He refuse her touching or embracing Him?
ANSWER: Back in Genesis 14, we were first introduced to Melchizedek, the priest of the Most High God, a term of deity not restricted to Israel. Hebrews 7, then, throws more light on Melchizedek and that Christ is the fulfillment of that Priesthood.
The first step of preparing the High Priest after Aaron's priesthood was wash, wash in water. The typology of that was fulfilled at Christ's baptism. Then, in the purity of His resurrected Body, He was now ready to present His blood in the Holy of Holies in Heaven, according to Hebrews 9: 11 & 12. He then returned and presented Himself to the 11 and invited them to see and feel the nail print proofs of His death, burial and resurrection.
That, then, is the Glorious Body after which we will be fashioned in eternity. Philippians 3:21.
---
Note from the Office
We in the office are often asked by those who have recently discovered "Through the Bible" how Les began his television ministry as a layman/farmer. Les started teaching home Bible Study classes in the 1960s when a missionary finishing his furlough asked Les to take over his very small couples class. The reputation as a teacher followed him to Oklahoma when he, Iris, and their children moved here (Iris grew up in Poteau, OK) in 1975, and he was soon teaching open Bible Study classes several evenings a week. Eventually, a student in one of those classes who had connections to a local TV station approached Les about taping a 30 minute weekly program to air on local television. Les asked each of his classes to pray about this (by that time he was teaching classes in Tulsa, Muskogee, McAlester, Tahlequah, and Wilburton on a weekly basis.) The response was more than supportive, with the class contributing within $100 (combined) of the cost of the first months programming. Les considered this an open door and the program began airing weekly in Tulsa, Oklahoma in 1990. With the help of family and faithful class members, who came to include a receptive television audience, the program went on to tape for the next 19 years, wrapping up in September of 2009. Those programs continue to air on television and radio, from beginning to end, all over the US as well as in Canada, Europe, Africa and beyond. Talk about a mustard seed!!! Just as it has been from the beginning, the program is supported by donations, 100% of which go to TV and radio airtime.
Last but not least, please remember not to put paperclips, staples, or tape in or on your envelopes and designate on the memo line of your checks what you would like them to be used for. Thank you from all of us in the office!
---
Happy Thanksgiving & a very Merry Christmas from all of us at Les Feldick Ministries!
---
Les Feldick Ministries 30706 W. Lona Valley Rd., Kinta, OK 74552
1-800-369-7856 or 918-768-3218
---