Through the Bible with Les Feldick
Newsletter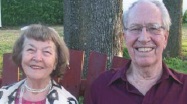 A memory shared from Iris
We love Oklahoma & our family has lived here since August of 1975, although Iris was born and raised in Poteau. We have been blessed with two plentiful peach trees and canned a lot of peaches in that time. 2019 & 2020 were a different story. Les always seems to know exactly when the peaches will be ready and so does a little raccoon family. One night the raccoons got every last peach off the tree and even cleaned the ground. It was very upsetting to not have even one to eat.
This reminded me of when we lived up North in Buffalo Center, Iowa. We farmed up there for almost 22 years (which we loved) and raised our kids. Our 11 year old son, Todd, came home from the neighbor's farm, proud as punch with two baby raccoons in a five gallon pail. Yes, we let him keep them. They were his constant companions, following him everywhere and anywhere – to the creek, in the corn fields and even to the top of many trees and buildings. Todd would come home, carrying them as they were too tired to walk.
We had invited our pastor and his family over for supper one night and Todd asked to show his raccoons to them. They escaped in the house. They were on and into everything, even attempting to climb the window coverings. We got them back into their pin quickly but it was so embarrassing.
On a rare day off, we decided to go fishing at a small lake near our home. The minnows had just hatched and we grabbed a bucket and scooped up hundreds, and set the bucket aside for bait. To our dismay, the little raccoons thought those minnows were just for them, and sat on the sides of the bucket, reaching in and eating them one by one. It was awfully cute but also aggravating.
When we were away from home, our nephew was left in charge of the raccoons. They were kept in a lovely home, with a tree limb inside for climbing. He forgot to lock the door and they took off back to the wild, taking up residence and growing by the creek. After church one Sunday we were having coffee with friends and decided they would come to our home the next morning to prepare the corn for the freezers. There was a lot of it and it was yummy! When we checked on it early Monday morning, every last ear was gone, not a kernel in the lot! I had to call our friends to explain that the raccoons had thrown a party, and invited guests of their own. This is a good reminder as we move forward in this season, that God loves and provides for all His Creation, great and small.